**The Marina is Closed for Winter 2018/19. See You This Summer!**
Cruises, Water Taxi, Water-Fun Rentals, and More!

Contact the Marina at 530.542.6570

Whether you stay at Camp Richardson Resort or just visit us for the day, your access to Lake Tahoe will be effortless. Our South Lake Tahoe marina has everything you need to enjoy the crystal clear waters of the lake. During the summer season, the marina is open daily from Memorial Weekend through mid-October.
Seasonal Hours (We may close early in case of bad weather, so be sure to call!)
May 15 - June 15: 9am - 5pm
June 15 - Sept 3: 8am - 8pm
Sept 4 - Oct 15: 9am - 5pm
Close for the season Oct 15
---
Camp Richardson Marina Mooring Buoys
Rentals include free shuttle boat service during business hours.
Season $3100 for boats over 28Ft and $2600 for boats under 28Ft; Week $390; Day $65
---
NEW TOUR to Vikingsholm Castle!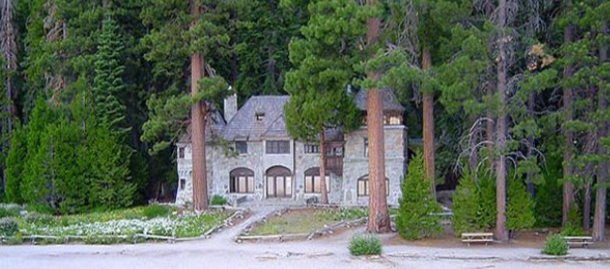 Take a three-hour tour that includes a boat ride and tour of the historic Vikingsholm Castle. Tours depart at 11am and 1pm. $99/adults. $69/kids 12 and under.
CLICK HERE TO BOOK NOW or call (530)542.6570
---
Rum Runner Day & Sunset Cruises to Emerald Bay
Our spectacular Lake Tahoe boat cruise leaves every day during the summer months from the Marina at 1pm, 3:30pm and 6pm for a one half hour cruise to Emerald Bay and back. Plenty of room for everyone, yet small enough to enjoy an intimate and unique view of Lake Tahoe and it's shoreline. Non-alcoholic beverages, snacks, Rum Runners, beer, and wine are available for purchase. $59/adults; $29/kids 12 and under.
CLICK HERE TO BOOK NOW or call (530)542.6570
Interested in chartering The Rum Runner for a private group tour?
Please call 530.542.6587 or email This email address is being protected from spambots. You need JavaScript enabled to view it. for more information on group charters.
---
Water Taxi
Catch our Water Taxi from Camp Richardson Marina, Round Hill Pines Marina, Lakeside Marina and Timber Cove Marina. Water Taxi begins at Lakeside Marina at 10:00am and concludes every day at Lakeside Marina at approximately 5:50pm. Click on map to enlarge.
Locations & Departure Times:
Lakeside Marina 10:00am - 12:00pm - 2:00pm - 4:00pm
Timber Cove Marina 10:15am - 12:15pm - 2:15pm - 4:15pm
Camp Richardson Marina 10:50am - 12:50pm - 2:50pm - 4:50pm
Round Hill Pines Marina 11:40am - 1:40pm - 3:40pm - 5:30pm
Please arrive 20 minutes prior to depature. Operation subject to weather.
Rates:
Adults: $15/one way, $25/round trip
Children (12 & under): $10/one way, $15/round trip
Bikes transported for no extra charge!
A great way to avoid traffic!
---
Marina Boat Rentals*
Boat Rentals
(2 hour minimum. Rates do not include fuel)
20' Regal: 10 passenger, Inboard/Outboard
$398/2 hour, $597/half day (4hr), $1,194/full day (8hr)
21' Four Winns: 10 passengers, Inboard/Outboard
$350/2 hour, $525/half day (4hr), $1,050/full day (8hr)
24' Four Winns Tower: 12 passengers, Inboard/Outboard
$488/2 hour, $732/half day (4hr), $1,464/full day (8hr)
24' Regal: 12 passengers, Inboard/Outboard
$508/2 hour, $762/half day (4hr), $1,524/full day (8hr)
27' Sea Ray: 13 passengers, Inboard/Outboard
$508/2 hour, $762/half day (4hr), $1,524/full day (8hr)
28' Cobalt: 13 passengers, Inboard/Outboard
$570/2 hour, $855/half day (4hr), $1,710/full day (8hr)
Pontoon Boat: 12-passenger
$428/2 hour, $642/half day (4hr), $1,284/full day (8hr)
24' Pontoon Boat: 13-passenger, 150 hp Mercury Outboard
$498/2 hour, $747/half day (4hr), $1,494/full day (8hr)
Tow Package (tube, ski, or wakeboard) $25 (additional items $20/each)
---
Additional Watercraft/Beach Rentals*
SeaDoo & Waverunners
SeaDoo GTI, 2 people
$130/1 hour
Yamaha Deluxe Waverunner, 2 people
$115/1 hour
*Fuel Surcharge: $5/half hour, $10/1 hour
Kayaks
Single: $30/1 hour, $50/2 hours, $80/4 hours
Double: $40/1 hour, $70/2 hours, $90/4 hours
Stand Up Paddleboards (SUP)
(ages 14 and up)
$35/1 hour, $60/2 hour, $90/3 hour
Pedal Boats
Two-seat: $30/1 hour
Four-seat: $40/1 hour
Lounge Chairs
$12/full day
$8/half day
* Must be 18 years old with a valid driver's license and credit card. Reservations suggested for full-day rentals. Credit card deposit required for reservations. Please call for cancellation policy. Renter is responsible for all damages. Prices subject to change without notice.
---
Other Services Available
Marina Store with the best beer selection on the Lake, Ice, Fuel Dock, Pump-out Facilities.
---
Important Information for boat owners
Due to the infestation of aquatic invasive species in nearby lakes, Lake Tahoe has mandatory boat inspections before launching any watercraft. Your watercraft MUST have the current inspection sticker and approval before using any Lake Tahoe launching facility. For more information, please click here. The closest inspection station to Camp Richardson is 2128 Keetak St., Meyers, CA near the intersection of Highways 89 and 50. The station is open from 8:30am-5:30pm. Click here to view location map.
---
During the marina's operating months, please call 530-542-6570 for more information, current conditions, or to reserve a rental. For information, rates and mooring reservations please e-mail This email address is being protected from spambots. You need JavaScript enabled to view it..